What folks are saying about Jill Williams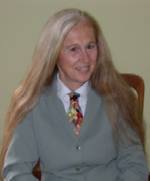 "Jill Williams is a charming performer of poetry. Far from the usual mumbler-behind-a-lectern, Jill utilizes props, unusual vocal inflections, and funny stories to hook the audience and hold them, creating an experience which is part literature and part theater. Highly recommended!" -- Christopher Conlon, Readings Coordinator, The Nora School Poetry Series, Silver Spring, MD
"Jill's edgy poetry style and innovative diversion to the sonnet grabbed the audience and left them with their mouths wide open. Everyone was gripped by her honest look at love,
loss and dating woes. I loved listening to her read!" -- Melissa Subt, Community Relations Manager, Barnes & Noble/Clarendon, Arlington, VA
You did everything I envisioned a feature (reader) doing when I developed the concept for this event in 2000....You embody an excellent mix of the educational, written and spoken/performance facets of poetry today with a confidence that convinces those who meet you that the art of poetry must be taken seriously." -- Cheryl L. Crockett, Poet and Originator of Poet-a-tete
"...students, especially, responded to the cadence and language of Williams' poetry. Though few in the audience knew the mechanics of a sonnet, for example, the musically of the poetry was evident and moved the students to identify with the message. They came away with a richer reaction to poetry and the reality of a poet's medium." -- Robert L. Giron, Prof. of English, Montgomery College-Takoma Park, MD
"Jill Williams is an excellent poet who, when she presents her works, holds the audience in thrall as she brings her words to life. Her readings are also a unique learning experience. Listeners get an opportunity not only to learn about traditional styles of poetry, they get a chance to hear it in action. Working with an assortment of props, moving around the stage and without the use of a microphone, Jill thrills her audience and brings them to laughter as well as to tears with her honest, well-crafted works. -- Shulamit Joffre, Host, First Tuesday Assembly of Poets - Vancouver, British Columbia
In "A Weakness for Men", you come face-to-face with Jill Williams' past! She opens her heart and her memories in this fast-paced, in-your-face collection of musings on guys.
Very entertaining! -- Rob Eckman, Community Relations Manager, Barnes & Noble/Sugarhouse, Salt Lake City, UT
"Her delivery is so natural and flows so easily, that when my mind does register a rhyme, I am surprised by it." -- Excerpted from KUDOS article by Rochelle Brener, founder/
director of Write Here, Sedona, AZ
Jill Williams captivated a capacity crowd at 'Sweet Jill's' in Cottonwood, AZ with selected readings from her book of poems entitled "A Weakness For Men." The audience, a diverse group ranging in age from 20-80, was as attentive and expressive in reaction to Jill's poems as any I've witnessed. -- Terence Pratt, Assistant Dean & English Dept. Chair, Yavapai College, Clarkdale, AZ
"Jill Williams gave a lively and vivacious performance. Though her poems are set in traditional, "formal" form, their content is anything but. Their language and drama is drawn from everyday life--filled with humor and poignancy. The audience loved her."
-- Susan Lang, author, coordinator of Southwest Writers Series, Prescott, AZ
© 2004 SubtleTea Productions All Rights Reserved