A creative man is motivated by the desire to achieve, not by the desire to beat others.
The smallest minority on earth is the individual. Those who deny individual rights cannot claim to be defenders of minorities.
Love is the expression of one's values, the greatest reward you can earn for the moral qualities you have achieved in your character and person, the emotional price paid by one man for the joy he receives from the virtues of another.
We are fast approaching the stage of the ultimate inversion: the stage where the government is free to do anything it pleases, while the citizens may act only by permission; which is the stage of the darkest periods of human history, the stage of rule by brute force.
Civilization is the progress toward a society of privacy. The savage's whole existence is public, ruled by the laws of his tribe. Civilization is the process of setting man free from men.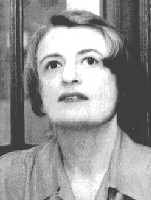 Government "help" to business is just as disastrous as government persecution... the only way a government can be of service to national prosperity is by keeping its hands off.
Just as man can't exist without his body, so no rights can exist without the right to translate one's rights into reality, to think, to work and keep the results, which means: the right of property.
The only power any government has is the power to crack down on criminals. Well, when there aren't enough criminals, one makes them. One declares so many things to be a crime that it becomes impossible for men to live without breaking laws.
A government is the most dangerous threat to man's rights: it holds a legal monopoly on the use of physical force against legally disarmed victims.
Individual rights are not subject to a public vote; a majority has no right to vote away the rights of a minority; the political function of rights is precisely to protect minorities from oppression by majorities (and the smallest minority on earth is the individual).
Without machines and technology, the task of mere survival is a terrible, mind-and-body-wrecking ordeal. In 'nature,' the struggle for food, clothing and shelter consumes all of a man's energy and spirit; it is a losing struggle — the winner is any flood, earthquake or swarm of locusts. (Consider the 500,000 bodies left in the wake of a single flood in Pakistan; they had been men who lived without technology.) To work only for bare necessities is a luxury that mankind cannot afford.
All of the above quotations belong to Ayn Rand.
© 2004 SubtleTea Productions All Rights Reserved