(This is an excerpt from the 2016 SubtleTea interview about Megan Volpert's 1976. The full interview can be accessed here.)




David: A fascinating passage in 1976 reveals an unflattering assessment of Marilyn Monroe:
The other day, I found myself embroiled in an argument with my father-in-law concerning the intellectual abilities of Marilyn Monroe. He said she was above average in the smarts department and I said she probably wasn't. At first, his main warrant for this absurd claim was that we should take a look at her husband because Arthur Miller wouldn't marry a dummy.
Though I'm a Garbolator rather than a Monroebot, I think both underestimation and overestimation of Marilyn are bad. Sure, Saul Bellow said she "conduct[ed] herself like a philosopher," but undermining terms such as "childlike sex goddess" (Gloria Steinem), "child-girl" (Norman Mailer), "beautiful child" (Capote) and even "baby whore" (Pauline Kael) have been dominant since her demise. Not that Marilyn was a deferred Atwood or Streep, but I trust Sarah Churchwell when she calls her "a greater Gatsby" and pierces the Dumb Blonde perception: "The biggest myth is that she was dumb. The second is that she was fragile. The third is that she couldn't act." Contrarily, you perceptively ask: "[I]f she was the total package and couldn't maintain, what chance do the rest of us schmucks have?" This happens to echo Steinem on Marilyn: "How dare she be just as vulnerable and unconfident as I felt?" Basically, Marilyn offends you for not taking advantage of her advantage:
So if I give her the benefit of the doubt, I'm trapped with a version of history where a woman who was empowered by both her body and her mind could've had all the success of which she dreamed so ambitiously, but instead allowed herself to be subjugated to the position of sex symbol until coping with the emptiness inside herself required so many drugs that she torched her own rise to stardom and died in the weakest way at the least opportune moment…I'd rather believe she was a little too dumb to handle it and she just lost control over her own trajectory. I don't want to believe that Marilyn Monroe was a picture of the consummate professional, full of intellect and common sense, who nevertheless cracked.
Might both "greater Gatsby" and Dumb Blonde be true? As for Marilyn's (questionable) suicide, Sexton and Plath also killed themselves, so were they "too dumb" to deal?

Megan: I really like Churchwell's metatextual projects, and though I ultimately didn't read most of her book on Marilyn Monroe, the way she went at the subject – the nature of apocrypha itself – was very inspirational to me when I was waist-deep in Warhol research. Monroe died long before I was born, so all I ever have to work with will be under or overestimation, even out of the mouths of people who did actually know her. But I enjoy the second-handedness of most information, the way it mutates over time. We're left with a kind of Pascal's wager, where I prefer to gamble that she was sort of dumb so that I don't live in fear of the implications for myself. Because I'm not dumb.
Nor do I think Plath or Sexton were dumb. I admire Sexton's work particularly. You might argue that they were rather too smart to deal, not too dumb. That's a perk of being a writer instead of an actor: you're writing your own history in your own words. There is a cornucopia of archival material for both writers to convey with constancy and consistency how they felt about life, whereas there is comparatively little material directly out of Monroe's own mouth, and she is not as articulate as those two writers. The chapter on Monroe doesn't argue that you'd simply have to be dumb to kill yourself. There are some suicides that I would condone, though they tend to be more in the line of euthanization for physical pain than solely for emotional suffering, for example Hunter Thompson's suicide.


David: In Making Tracks Debbie Harry said that she "always thought [she] was Marilyn Monroe's kid." Even dubbed the "punk Marilyn" (Mick Rock saw more Marilyn than punk), Debbie brought "the whole Hollywood/Marilyn sensibility to [rock]," according to Chris Stein (the Lindsay Buckingham to her Stevie Nicks), and she wanted to be "a mysterious figure that'll never be able to be truly defined," echoing Marilyn's stated desire "to stay just in the fantasy of Everyman." 1976 presents a fundamental contrast between Marilyn and Debbie: the latter is "in charge of herself" and "campily capitaliz[ing] on her own sex appeal to drive [Blondie's] image into record sales," has "actual brains" and excels at puckish duping of fawning males. Later in life Debbie stated the obvious: "Certainly, 50% of my success is based on my looks, maybe more, and that's a bitter pill to swallow." Well, duh. As Janet Radcliffe Richards wrote, "Beauty is not a matter of what you are, it is a matter of what you look like." Might physical beauty be its own sort of genius, as Wilde said? Isn't love of foxiness more than acumen understandable?

Megan: I've wanted to talk about Monroe and Harry side by side since the Warhol book, where I could not find a way to do it to my own satisfaction. So much of that chapter of 1976 is a kind of deleted scene from that other project. In fact, the surplus of thoughts and residual understandings I had during that Warhol project in some sense made 1976 easy pickings among all the other years I could have chosen. It's no secret that I'm working on a book about Bruce Springsteen right now, and in many ways these books are three of a kind, though they are in no way a proper trilogy.
But you asked me about physical beauty. Warhol, having none himself, sought ceaselessly to collect and then reproduce the foxiness he found in others. Where 1976 openly discusses physical beauty, it's often as an absence, for example in the chapter on Richard Avedon's political portraits. I understand that many people think of Springsteen as super hot, but I'm not one of them, and most of those people would likely agree with me anyway that his unusual voice has an ugliness that is the real seat of his rise to celebrity. It's easy to agree with Wilde because physical beauty on a natural level can be a straightforwardly evolutionary prospect. I also admire people working in fashion, photography, or other arts fields where one is expected to be gorgeous, for the upkeep that maintaining gorgeousness obviously requires – foxiness as a kind of acumen. It's a skill set, and I do love drag queens. But then eating disorders, expensive cosmetic surgery, and so on. I get through life mainly by displaying acumen, but I'd be foolish and not very feminist to disapprove of Debbie Harry's good looks or how she used them.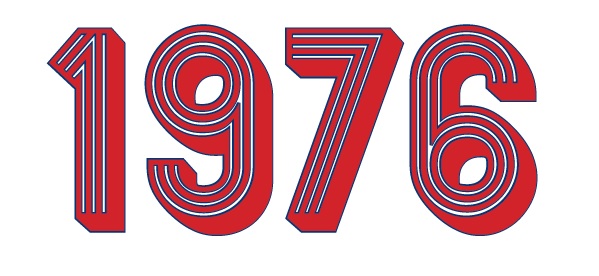 more information on Volpert's book here