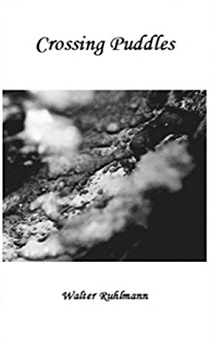 As its title suggests, Walter Ruhlmann's Crossing Puddles is a moist, wet and sometimes drenched book. It's sticky with fluids, supple with organicity, non-cosmetic – and, above all, funky. I mean "funky" in three senses of the term: the olfactory, the depressive and the existentialist a la philosopher Cornel West, who thinks of "funk" as "wrestling with the wounds, the scars, the bruises, as well as the creative responses to wounds, scars, and bruises." Really, relatively few writers dare to scrape the underside of things, to plumb the profane as much as the sacred, and to pull back humanity's foreskin to expose its shmegma.
I'm not saying that readers should keep barf bags handy when reading Ruhlmann's poetry, but they certainly should check their gag reflexes, because this guy sanitizes nothing when sanitation is too sanitary for authenticity. In other words, be wary of what might be in those puddles you so carelessly cross. What I mean is that Ruhlmann tends to focus on leakage, seepage, fluid emission, what comes out rather than what goes in – and it's not always clean or pretty. Most times this focus is directed at the human body, unsurprisingly. The body emits non-stop throughout its life, and it emits more wildly in decomposition after death. Ruhlmann can't help but reiterate the body's less savory automatic processes, and its constant cycle of dryness and wetness.
This motif kicks off in "Springs from the Flat": "A little sweat on our foreheads,/under armpits, drenched white shirts,/sore, smelly feet, heavy boots…" And it almost never relents for the rest of the book: "sulfuric semen stains the bedsheets," "stuck in the mud of memories," "cold showers,/the drizzle & the rain," "I wore my pajamas all day,/keeping that sweaty smell on the surface of my skin," "the skin burned by the sun,/the salty sweat pricks my eyes," "as jizz/suddenly spurted all over the floor," "making bubbles in the water," "We shit in clean water/is all I want to say," rain "spitting on the windows,/spurting on our coats," "We slip in spit/those gobs like/patches of come/lay on the ground:/hundreds of mouths spurted out," "a pool of spew/for them to bathe in," "a flood of drool," "Now the juices were spat," "this thick and greasy slice of pork rib," "I remember his face all covered in/dark/red/shame/stains./YES!/the semen got lost/between the shirt I wore that day/and the checked shorts he shivered in," "Frankie's wet hair will dry in the/marine breath of mine," and "water dripping from my arms,/my legs, my butt, my sex, but my face/is still dry."
Lines such as "flesh on flesh, pricks and balls/mingled and intertwined…/in toilets you/toy them" exemplify Ruhlmann's talent for portraying the (literally and literarily) scatalogical in the sexual. There's a basic seediness to spilling seed in his images of male ejaculation, perhaps best exemplified in this disturbing excerpt from "Jerking in the Bus":
The coach driver unbuttons his belt, unbelts his waist, unzips his pants
and sticks his bulging pudding out. Grabs it. Retracts the wet foreskin
until it hurts a bit and groans with high pleasure.
 It is not long before he jerks off, messing the wheel.
Filth and grime inevitably follow ecstatic highs, and the body is fresh only in the brief wake after bathing or showering, but Ruhlmann accepts all this as an acceptable mixture; even filth and grime can glint with a sort of picturesqueness in moon-/starlight:
The bed I wreck in seems comfy,
unless hair, crumbs and dust, smells from a previous sweaty night
still linger on the sheet.
The stains we left when the moon and the stars above,
bright and colorful, shone,
iridescent, irradiating our bodies, spurting all the water, semen and saliva.
Bodies' frequent repulsiveness is self-evident, since we know our own bodies more than anyone else in the world. Ruhlmann's narrator is quite critical of his own body, as shown in this line: "The smell of my swelling penis…/the size of my large, lardy ass/in the shade of which one could park one's Cadillac."
Not exactly flattering, nor in conformity to Aesthetes' poetic Photoshop (for which I admit favor). But necessary. These are some of the evidence of hell that hides under flowers, as Issa wrote about. Literally underlying horrors are addressed in "Where Allies Lie," a poem of D-Day remembrance: "Standing over the tombs, I watch infinite line of corpses,/hidden under six feet of dirt, grass, trees, tourists…" "Crusty Dusk," speaks of "many worms and so much dust," while "Meat" evokes "underground animals,/underworldly mammals,/moles,/voles,/some unwanted rodents." And, on a more personal note, in a poem called "The Visa":
…for there was nothing I detested more than
stepping in the damp Norman weather
to wander in the alleys around the cold, dark marble stones
marked with the scary faces
and covering the bodies of
dead people I did not even know.
Flesh's fundamental corruptibility and brevity are captured perfectly in this clip from "I Wish It Would Snow For Christmas":
Humus will remain after the fall.
Rotten skin,
inane limbs,
stained soil,
torn flesh,
meaningless,
awkward,
sick and sulfuric ashes blown away by the wind…
Of course, natural environments parallel and mirror degeneration, decay and recycled organic materials (and vice versa). Without rational human intervention there is overgrowth; without constant maintenance there is dross. If Ruhlmann's sense of (literal and metaphoric) overgrowth and dross could be essentialized, it would be in four key lines in an epic poem called "The Horizon of the Poplar Trees," which features English text on the left side of the page and French translation on the right: "mauvaise graine,/mauvais garcon" – "weeds, scum." Those lines are self-referential/meta-wording, because Ruhlmann's long-lived literary journal, mgversion2>datura, is also called Mauvaise Graine (hence mg). From ashes to ashes, from weeds to scum.
And slime. In "Concrete Stairs" the residual trauma and battery of self-esteem from the narrator's childhood reduce the narrator to residue and somehow emphasize the lowly reality of his being: ultimately liquid and pulp, and nothing more.
These memories will be the end of me, the final step taken before I fall
into madness,
complete, total, absolute, inevitable.
The first fall occurred some thirty-five years ago:
a toddler was I, just ready to discover the world.
I could have died the day I fell from the top of the bottom of these stairs…
 Prior to that
they had almost blinded me with forceps – malignancy
they had dumped me on the bare bedroom floor – over-tiredness
they had left me in the sharp claws of a drunkard nanny – naivety
they had almost smashed my head against the garage door – absent-
mindedness
their dog had nearly wolfed me – jealousy.
I have escaped physical harm many times
but do not seem to be able to avoid being slime.
Dr. Francis A. Schaeffer called the poetry of Dylan Thomas as "sensitivity crying out in darkness," and that is what Ruhlmann's stuff is. "October child moons over rainy days./Somehow he suffers from the recluse concept he inflicts on himself…" goes the narration in a poem called "November Children." "[S]omewhere certainly lives someone who would share his suffering…" (I've a hunch that Ruhlmann was born an October.) The book expresses a sense of borrowed time, misspent youth, of being overwhelmed and invaded by madness, the mindless, natural forces: "My domain is still at stake:/invaded by weeds and evil sprites, changeling changing into dark corners,/furrowing in the beds, the lawn and the kitchen garden."
Regardless, the narrator is not mere slime, but worthy sensitivity transcending slime. All in nature is not invasion, detritus, rot and loss, and Crossing Puddles contains much beauty and curiosity. There also is life in life. Hopeful rejoicement is expressed in "The Garden":
…after watering the garden,
I watch and listen to the green things grow,
they sing a perfect song of joy,
billowing out,
blooming and erasing my mental hay fever.
I love when writers sprinkle their work with clever, humorous and/or profound lines to discover like precious Pokemon, so Ruhlmann usually pleases me sporadically – yet powerfully. Examples of favorite lines follow.
Then/the book opens,/on its own,/like a spying glass/on the universe.
Through the window I spot
two cows
chasing one another
somehow
they look like me and my sister.
…pork comes from pig,
beef was an ox
but fish was fish…
…what salvation are you expecting?
The cherry trees have gone berserk…
 I was raped by an orchid
in the middle of an orchard…
I mistakenly detected a lovely reference to the great Nietzsche in "the Canyon," but it turned out to be for Caspar Friedrich:
…thinking Friedrich could not be wrong,
except that it is even more sublime seen from below:
not an ocean of clouds but a hard rock on a pure azure sky.
As I wrote in my review of his Twelve Times Thirteen book, "though Ruhlmann's style tends to veer into the esoteric, acclimation comes easily, and Ruhlmann narrates perfectly coherently when the time is right and directness is needed." This sentiment still stands. In Crossing Puddles his habitual fluctuation between the material (often geographical) and the psychological/spiritual is shown in the titles/locales of the book sections themselves: Nantes, Normandy, Bresse and Remote Places of the Mind.
Walter Ruhlmann works as an English teacher, edits mgversion2>datura and runs mgv2>publishing. His latest collections are Maore (Lapwing Publications, 2013), Carmine Carnival (Lazarus Media, 2013), The Loss and GMO (Flutter Press, 2014) and Crossing Puddles (Robocup Press, 2014). Visit his blog.