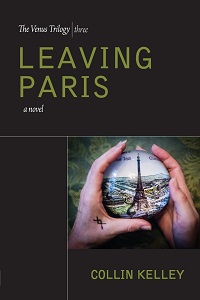 published by Sibling Rivalry Press, 2016
learn more about the Venus trilogy here

[Caution: some mild spoilers]
Tenacious and prolific as ever, Collin Kelley has successfully deviated from his usual poetry output and produced the final novel in his Venus trilogy: Leaving Paris, my favorite installment of the three. This time Collin's Francophilism is fever-pitched. His preference of the City of Lights to probably anywhere in the U.S.A. seems more overt than in the preceding books, and his disillusionment, particularly with the South, sticks out like a sore Eiffel Tower. Perhaps what lovable protagonist Martin Page says to colleague and friend Julie Lacombe during a Memphis stop on his U.S. book tour sums up this basic cynicism: "You're the most un-Southern Southerner I've ever met…America is always going to be a disappointment."

Over the course of the three Venus novels, Collin's plotting has become more and more cinematic, blending espionage/political intrigue with romantic drama, as well as some chutzpah-fueled magical realism. Really, literary genres compete somewhat in Leaving Paris, seeming to fluctuate from chapter to chapter at times. Normally this would be problematic, but Collin has managed to handle the mixture and the transitions pretty well. The overall cinematic quality of the Venus trilogy does show Collin's pop-cultural cache, most notably with big winks to Richard Linklater's Before film trilogy in parts dealing with the question of "What could have been?"

It's 2005, about 10 years after the original book, and the ever-acerbic (and menopausal) Diane Jacobs struggles with both marital dissolution and caretaking her deteriorating father over in America, while over in Paris grande dame Irene Laureux runs the Editions Resolvere publishing house along with heir-apparent Martin, whose plans for production expansion include e-books, which must be intended to be amusingly quaint to current-day readers. ("Who wants to read books on a tiny screen?" asks Euan McEvoy, one of Martin's seemingly countless ex-boyfriends. I joke, I joke.) Also, Martin's romantic relationship with Christian Kigali has strengthened, and Christian worries for his father, Olivier, who is a Muslim convert (making his son's name ironic) and a man with a serious secret life.

Looming behind such personal incidentals is the primary political situation in France, which involves tension between the right-wing Front National, spearheaded by the conniving and bitter Michel Arnaud, and unrest in Montfermeil, an immigrant-heavy banlieue. Arnaud seems resolved to rout out ethnic and religious undesirables at all costs, but his machinations face investigative threats and the Shakespearean inevitability of "the truth will out." Of course, Irene, Martin and Christian become embroiled in what explodes from this societal powder keg.

Unless I'm remembering the other books inaccurately, it seems that Collin has really intensified the psychic link between the ever-odd and likable Irene Laureux, who, incidentally, speaks the two funniest lines in the entire book:  "Gay men love me. I can bend them to my will." The mystical episodes also have become more…mystical. Besides Irene's and Martin's mutual visions and intimate extrasensory connection, there's a sort of time travel involving "the Wood Between the Worlds" (a direct nod to C.S. Lewis' The Magician's Nephew), "the other side of the mirror," Einsteinian "quantum entanglement." To put it more plainly (ahem), it relates to a phenomenon sparked by the rising of planet Venus, during which the Australian Yolngu tribe perform a ceremony called Barnumbirr so that communication with deceased relatives can be achieved. As one character puts it, "time is constantly folding and unfolding, like a wave crashing in on itself."

During an episode of this warping of time and space, former-lover Paul, like Dante's Virgil, guides Martin through what seems to be 17th-century Versailles and delivers him to a high-school boyfriend named Peter Daris, who shows Martin that "different choices" could have kept them together, to the point of aging happily as a married couple with a daughter. Then, as if ending a domino fall from lover to lover, Martin encounters David McClaren, the sexually conflicted and highly reluctant former love interest of Martin's back in Conquering Venus.

Nowadays David is in even deeper sexual denial and, worse, married to a woman and utterly exploding from repression. (A quite disturbing scene involving a homophobic "redneck," an intoxicated David and David's belt illustrates this perfectly.) An interactive vision of Martin and David as a happy couple shows "the way it was supposed to be," to use David's tempting words. Apparently, Martin has a real choice to make. What about his boyfriend Christian? Could alteration of his past course be much-needed salvation for tormented David? What is the true purpose of this magical in-between place (or non-place)?

Collin's ability to construct three weighty novels on the foundation of the comparatively simpler ideas of Conquering Venus is impressive. He cared enough about his characters and their potential to carry them over several years and through a lot of extraordinary circumstances, to say the least. He excels at threading together different plotlines and maintaining readers' care for them. Even dastardly Arnaud, whose role could understandably be snubbed as a ho-hum caricature of an ultra-conservative fanatic (not much unlike David's disapproving father, the "right-wing freak" and, of course, a gun lover), is a welcome familiar as far as dramatic conflict and sociopolitical-intrigue stories' need for relentless Inspector Javerts are concerned.

In plotting Leaving Paris Collin wasn't even finished with Irene's murdered husband, Jean-Louis, nor his fateful lover, Frederick Dubois, who was the object of pursuit in the second Venus book, Remain in Light. Fans of the Venus books will be pleased to find that not only does the mystery surrounding the death of Jean-Louis back in the late 1960s factor yet again, gaining more contextual importance, but something surprising is revealed about the true identity of "gangster" Andre Sarde. Even Julie Lacombe, who was mentioned at the beginning of this review, has more to her than meets the eye. Put it this way: Leaving Paris is the archenemy of loose ends.